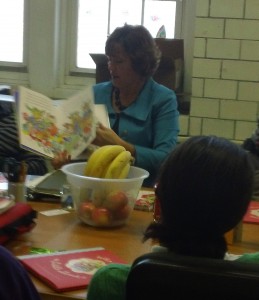 This past week the Teen Parent Book Club at Cardozo High School hosted its first author visit of the semester.  Lezlie Evans, author of nine children's books, including the recent and critically acclaimed Who Loves the Little Lamb, stopped by for a conversation about reading, writing and letting life inspire your written work.  
 The visit began with a reading of Who Loves the Little Lamb, an illustrated book in which little animals learn that their mothers still love them, no matter how many mistakes they make.  Ms. Evans discussed her inspiration for the novel: her own six children. "Children, or any people that we love, are amazing in that way," she said. "No matter what they do, no matter how much they get on your nerves, you love them anyway."
Ms. Evans was also eager to discuss her writing process, impressing the importance of moving past rejection.  She brought in a stack of the rejection letters she has received over the years and showed the students.  "What would have happened if I had stopped writing after the first one?" she wondered.  "What would have happened if I had stopped writing after the first ten, or twenty, or thirty?"
For Ms. Evans, the roadblocks that she overcame in order to become the writer that she is today go back even further than publisher's rejection letters received in adulthood.  As a child she was not an avid reader.  She talked about having trouble writing an original story in the sixth grade and being placed in a remedial reading class.  
Yet, even these early setbacks could not completely deter Ms. Evans from writing, first as a journalist, and eventually as a children's author.  "Once I started, I could not stop," she told the students.  And, if the nine original children's books she has already had published plus the young adult novel currently in process are any indication, Ms. Evans is not stopping any time soon.
The session ended with a book signing.  Ms. Evans wrote personalized messages for each student and his or her child.  "Read together," she urged the students as the bell rang.  "You never know the special moments that act of reading can create."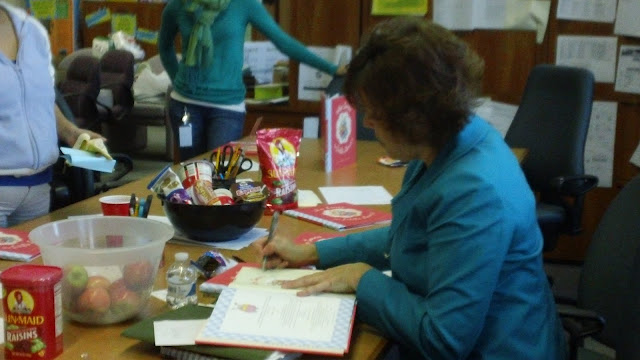 The Teen Parent Book Club is a partnership between the PEN/Faulkner Foundation, the New Heights Teen Parents Center and DC Public Schools. The group meets bi-weekly to discuss books by local, contemporary authors. Read about previous sessions here, here, and here.