The WinS Triathlon with Alison Stewart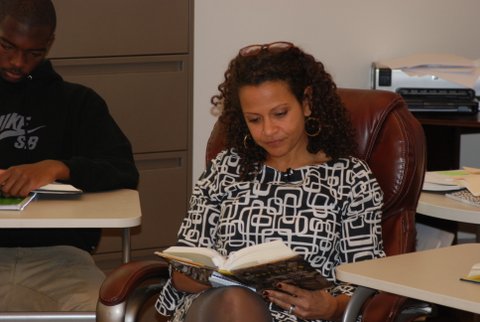 If you've been following the WinS Blog for a while now, you've certainly read about the time-honored tradition of the "WinS Marathon." It's when a writer visits three or more class sections in a single day, which, given block scheduling often amounts to spending an entire day discussing their work with students. Much like it's 26.2-mile counterpart, the marathon is the ultimate test of the writer's endurance, tenacity, and commitment to his or her craft. It takes training. It takes courage. And, most importantly, it takes granola bars.
To continue our well-documented obsession with sports metaphors, this past Tuesday one daring writer took on a brand new challenge: the WinS triathlon. Whereas a marathon takes place all at one school, the triathlon spans three schools, and three completely different types of class settings — much like the three events of a traditional triathlon.
I met Alison Stewart at her hotel on that fateful morning. "You're the boss," she said gamely. "Just point me in the right direction and I'll talk."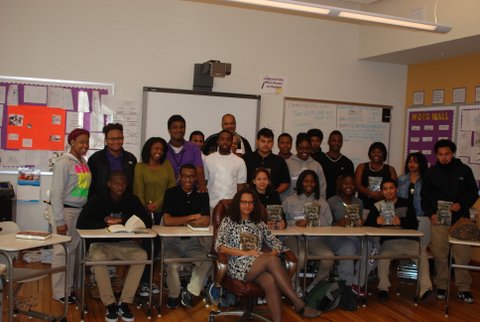 She was in D.C. to discuss her much–publicized new book The First Class: The Legacy of Dunbar, America's First Black Public High School. The book traces the storied history of Dunbar High School from its beginnings as an elite academic institution that offered a well-rounded classical education, Latin class included, to its current state as an urban public school facing challenges with attendance, test scores, and graduation rates. Perhaps one of the most telling details of the school's present-day reputation comes in the introduction to Ms. Stewart's book. When she mentions to a colleague that she wants to visit the school to see the institution that has produced so many illustrious African American leaders (including her own parents), he responds with, "Dunbar — hey, they have a great basketball team."
From that first visit, ten years ago, Ms. Stewart has remained fascinated with Dunbar, from its more distant past as a rigorous school that circumvented overtly racist policies and practices of 19th and 20th century D.C. to offer quality education to its students, through its recent past amidst the tumultuous era of school reform under Michelle Rhee, and through its present in a brand new $122 million building that just opened for the 2013-2014 school year. It was that evolution, and her genuine hopefulness for Dunbar's future, that she most wanted to emphasize when she spoke with nearly 100 D.C. students over the course of her WinS triathlon.
The first leg took place at Cardozo High School in an AP English classroom. The students eagerly asked Ms. Stewart about her motivation for writing the book, why she chose to structure the book in the way that she did, and the persistent rumor that she'd attended Wilson High School (not true — Stewart grew up and attended school in New Jersey).
After a quick cup of coffee and a change of scenery, we were off to the second leg at McKinley Technology High School to meet with a lunchtime book club. There she spoke poignantly about her parents' experience in 1950s D.C., an era in which they received a first-class education at Dunbar, but could not sit at a local lunch counter. She also shared one of her favorite anecdotes from the books, which concerns Lt. Commander Wesley Brown, the first African American graduate of the Naval Academy. Brown faced rampant discrimination during his time at Annapolis, but received encouragement from a surprising source — future president Jimmy Carter, who Stewart interviewed for the book.
Finally, Stewart took the day into its homestretch at Dunbar High School where she spoke with students in a D.C. History class. There the students were just as concerned with the elements of their school that they'd recognized from the book (Matt Stuart, the English teacher profiled in the final chapter of Stewart's book, was teaching just down the hall) as with the process of writing in. Ms. Stewart shared stories of her research process, including the boxes of research she lugged between her home and writing space, and of the many challenges she faced in writing her first book. The visit ended with Stewart and the students exiting the 4th floor classroom to gaze at the ruins of the old Dunbar, currently in the process of being torn down.
As we left the school, Alison Stewart, reflected on her triathlon experience. Meeting with three different groups of students, at three different high schools provided her with a truly panoramic vision of what it's like to be a part of the D.C. school community. And, as an added bonus, she became the Gordon Haller of Writers in Schools.